'Green' Dating Sites*
Along with Green-Passions (the site you are on now), the sites listed below all focus on connecting Eco-friendly singles with others who are interested in dating 'Green' singles. The sites listed below range from those focused on Green dating to others focused on Eco chat. The primary goal is to connect people though. Each site, regardless of the company running it, shares many of the same characteristics as many of the other sites. So, if you are looking for a great dating site focused on Eco-friendly singles, then there are MANY here to choose from, so look through the ones below to find the one that seems like the best fit for you.
AD

Meet Eco Singles
"Have a Green Romance with an Eco-Conscious Partner"
Enjoy friendship and romance based on common ideological ground. Whether it's the environment, nature, nutrition, veganism, etc., meet other eco singles who share your lifestyle.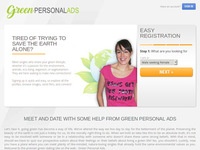 Green Personal Ads
Tired Of Trying To Save The Earth Alone?
"Meet singles who share your green lifestyle, whether it's a passion for the environment, animals, eco-living, veganism, or vegetarianism. They are here waiting to make new connections!"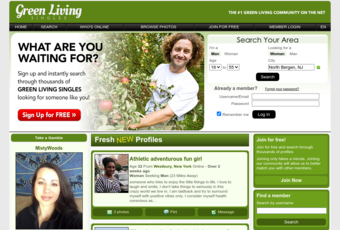 Green Living Singles
Search Through Thousands Of Green Living Singles Looking For Someone Like You
Green Living Singles helps individuals who are interested in sustainable living find each other for friendship and dating!

Green Singles
"Make Every Day Earth Day"
Green Singles is part of the 'Conscious Dating Network', which is one of the oldest "Green/Eco-Friendly" and "Spiritual/Conscious" sites online. If you are looking for a site that includes much more than just a focus on 'green living', this may be the site for you.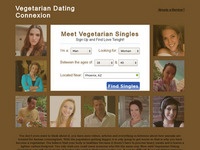 Vegetarian Dating Connexion
Meet Vegetarian Singles! Sign Up and Find Love Tonight!
The focus here isn't so much on the 'Green Living' concept or meeting other specifically 'Green Singles'. Rather the focus on this site is saving animals (and the earth) by moving to more sustainable living by eating vegetarian. If that is your focus, then this is the site for you.

Single Vegetarian
"Thousands of Vegetarian Singles are looking for someone like you!"
The meat industry is destroying the planet through the use of resources to feed the animals, through the toxic run-off from the animals and through the energy expended to transport the meat to the consumer. Vegetarians are saving the planet by cutting down on everything previous mentioned. Join to find you veggie soul mate today.
AD
My Green Lovers
Green Social Network And Green Dating Site
"If you are looking for your green or vegan soul mate, you are also in the right place! GreenLovers is dedicated to friendly but also romantic relationships."
Meet Mindful
Mindful Living Meets Online Dating
Mindfulness is defined as conscious awareness of the present moment. The idea here is that singles show up to connect with intent and to build strong relationship foundations. If you are looking for a dating site where people aren't just signing up casually, this could be the site for you.
Eco Dating UK
"Find your eco-friendly match today!"
"Eco Dating is a free online dating website for green singles, eco-friendly singles, and others in the green dating world who live and love naturally."
Natural Friends
Ethical Dating
"Natural Friends is the natural way to meet like-minded 'green' singles. Perhaps you would like to meet environmentally-sensitive, country-loving, health-conscious, spiritually-aware singles aspiring to tread lightly on the earth?"
AD
*Sites listed on this page are a combination of ads, affiliate related Sites and general non-partnership related sites that match the theme of Green-Passions.